TIME magazine's Top 10 Star Wars Fan Films
August 23, 2010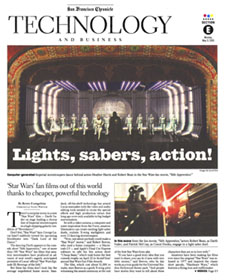 Lights, sabers, action!
Star Wars fan films out of this world thanks to cheaper, powerful technology
San Francisco Chronicle
Monday, May 9, 2005
by
Benny Evangelista
There's a surprise scene in a new Star Wars film -- Darth Vader on stage leading a chorus line of Imperial stormtroopers in a high-stepping galactic rendition of Riverdance. Don't fret, Star Wars fans. George Lucas hasn't suddenly turned his upcoming blockbuster into Dark Lord of the Dance. The dancing Darth appears in the comedy short Sith Apprentice, one of more than 100 Star Wars fan films that amateur moviemakers have produced in advance of next week's eagerly anticipated premiere of Lucas' official Star Wars Episode III: Revenge of the Sith.
But these fan films don't look like the average unpolished home movie. Standard, off-the-shelf technology has armed Lucas-wannabes with the video and audio editing tools needed to create the special effects and high production values that long ago were only available to big budget moviemakers. So with a video camera, a computer and some inspiration from the Force, amateur filmmakers can create exciting light saber duels, realistic X-wing starfighters and even 12 dancing stormtroopers.
"Now, just about anybody could make a Star Wars movie," said Robert Reeves, who used a home computer -- a Macintosh G5 -- and Apple's Final Cut Express software to edit his live action short Cheap Seats, which took home the best comedy trophy on April 22 in AtomFilms' annual Star Wars Fan Film Awards.
The film, which cost about $1,000 to make, stars Reeves as a goofy X-wing pilot witnessing the award ceremony at the end of the first Star Wars from afar. "If you have a good story idea that you want to share, you can do it now with very little money," said Reeves, who by day works as a tour guide for the Universal Studios Hollywood theme park. "And people have stories they want to tell about these characters they are so in love with."
Amateurs have been making fan films ever since the original Star Wars was released in 1977 and inspired the classic short parody, Hardware Wars, which features a flying iron and wafflemaker. But the rise of inexpensive computers and software has lowered the barriers of entry into the Star Wars universe. Computer-generated special effects that were the exclusive domain of a major studio are now accessible to anyone versed in common video editing and creation software.
Mika Salmi, chief executive officer of AtomShockwave Corp. of San Francisco, noted that this year's crop of more than 100 entries for the fourth annual Star Wars Fan Film Awards overall showed a higher level of visual and production quality than in previous years.
One measure of how the established movie community is recognizing the fan film genre came last week when AtomFilms announced that the prestigious Cannes Film Festival has for the first time agreed to present 11 past and present Star Wars contest winners. Star Wars Fan Film Awards movies, found at www.atomfilms.com, have been viewed more than 10 million times. One of this year's winning entries, Anakin Dynamite, was the first film ever made by Wayne Barnes, 28, a senior art director for Wal-Mart Stores Inc.'s Bentonville, Ark., headquarters. Another winner, For The Love of the Film, came from Barry Curtis, 32, and Troy Metcalf, 31, who work in a Toys R Us store in New York's Times Square demonstrating magic toys.
For Sith Apprentice, a send-up that turns the scheming Senator Palpatine into a Donald Trump-style executive looking for a new underling, director John Hudgens took stock images of stormtroopers and used his PC to animate them. Hudgens, a 38-year-old promotions producer for a Knoxville, Tenn., TV station, combined the animation with a live action video shot of two actors in front of a blue screen. He also used a technique posted on the Web for creating realistic light saber effects frame by frame with Adobe Photoshop. "There were a lot of long weekends and nights I spent rotoscoping a light saber," Hudgens said.
The contest is not only officially sanctioned by Marin County's Lucasfilm Ltd., but one category, the George Lucas Selects Award, is judged by Lucas himself. Lucasfilm, which is also known for taking a tough stance on fan films used for commercial or obscene purposes, sets the rules for the contest -- films have to be spoofs, mocumentaries or documentaries under 15 minutes long.
"Star Wars fans really have a sense of ownership about Star Wars," said Steve Sansweet, Lucasfilm's head of fan relations. "Occasionally, ones get a little carried away. We want to make sure there aren't Star Wars characters and story lines that are salacious or lewd or really crude."
And having a powerful computer doesn't guarantee a good movie. "You can have the flashiest style, even animation, but if it's a bad story or a story that doesn't make sense, it's not going to be a great film," Sansweet said.
Still, George Lucas has been impressed with the talent of the fan filmmakers, Sansweet said. "He's very much aware that people with a Mac or a beefed-up PC can now turn out a pretty nifty product," Sansweet said. "We're getting to the point with a huge number of people having broadband where not only can you make a film by yourself, but you can distribute it by yourself."
That's what the creators of perhaps the most ambitious fan film to date, Star Wars Revelations, is doing. Director Shane Felux' 40-minute independent film, which was longer than the 15-minute limit for the AtomFilms contest, was released for free on the Internet April 16. By last week, the movie, available at www.panicstruckpro.com/revelations, had been downloaded nearly 1 million times. It also comes in versions designed for burning onto a DVD or for playback on a Sony PlayStation Portable.
The movie took three years to make and involved an all volunteer cast and crew of 200, including Felux' wife, Dawn Cowings, 35, who co-wrote the screenplay set in the time period between Star Wars episodes three and four. Felux also worked with a corps of computer effects animators and visual effects artists from around the world. They transmitted their work via the Internet to Felux, who finished the film used his 3.2-GHz Pentium 4 home PC.
"I have a 9-to-5 job, I'd come home, maybe eat, pat the kids on the head and go to work until 3 in the morning for three years," Felux said. Felux also financed the nearly $20,000 cost of making the movie out of his own pocket, a heavy investment for the Bristow, Va., man whose regular job is as a government graphic artists contractor.
He's hoping the success of "Revelations" helps him find financing for another project he has in mind for his nonprofit production company, Panic Struck Productions. But he said he won't charge for "Revelations" because "there is no way I would want to do anything to make money off Lucasfilm' hard work."
Besides, working on "Revelations" helped him live out a dream. "That's as close as us fans can get to be in a Star Wars movie," Felux said. " 'Revelations' is about the little guy doing something big."
Filmmaker vies for award
with high-steppin' 'Sith' parody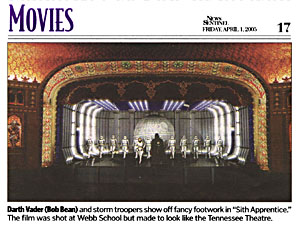 The Knoxville News-Sentinel
Friday, April 1, 2005
by Betsy Pickle
Maybe you've heard - the final Star Wars epic is coming out in May. But before Star Wars: Episode III - Revenge of the Sith hits theaters on May 19, a local filmmaker would appreciate your support of his own mini-epic, Sith Apprentice.
John Hudgens, whose The Jedi Hunter won the Audience Award in the 2003 Star Wars Fan Film Awards, hopes Sith Apprentice will be a strong contender in this year's competition. Online voting is open through Monday, April 4, at www.starwars.atomfilms.com. Sixteen finalists are vying for four awards, which will be announced at a special Lucasfilm ceremony April 22 at Star Wars Celebration III in Indianapolis.
Hudgens has submitted films three out of the four years the fan-film contest has been held. He took a break last year because he was busy working on a documentary, American Scary, that he hopes to have finished this summer. This year, Hudgens and his crew were determined to return to the fan-film scene.
Hudgens' previous Star Wars-based films - Crazy Watto, Darth Vader's Psychic Hotline and The Jedi Hunter - have been short and sweet. Sith Apprentice ended up being more of an epic - around 12 minutes, with 18 cast members. He and co-writers Lowell Cunningham and Denny Humbard didn't set out to make such an elaborate film.
"It sort of happened," he says. "We had originally planned on doing a Mr. Rogers parody with Darth Vader as Mr. Rogers - Mr. Vader's Neighborhood. But that's about as far as we got with it. It was just an idea."
On New Year's Day, Hudgens was at Cunningham's house, and the two were trying to work on "Mr. Vader" ideas. "Lowell just happened to look up and see an ad on the Internet for The Apprentice, and it was like, 'Of course! Darth Vader is the apprentice of the Emperor,'" recalls Hudgens. "I was afraid that it had been done already because it's one of those things when you first think about it, you go, 'Duh.'
"I did a massive Google search, and nobody even hinted about it. So we jumped all over it. Denny called us in the middle of it, and we put him on speakerphone and we practically wrote it that night."
Hudgens, who works at the local WB affiliate, started shooting in late January at the Read House in Chattanooga with Bob Bean as Darth Vader. The other shoots were in February at the Marriott and Webb School in Knoxville. He'd hoped to shoot at the Tennessee Theatre but wasn't able to work it out financially. Instead, he used the stage at Webb for his "Vaderdance" and made the set look like the Tennessee with his technical wizardry. "It actually probably worked out better for us in the end," he says, "because I might have done Vaderdance completely differently if we'd actually shot there at the Tennessee."
Although the real-life Apprentice isn't as popular as it once was, Hudgens hopes people appreciate the humor in Sith Apprentice. "Your parody's going to be better the more you can duplicate the original," he says. "Anything you can do to replicate the feel of it as well as the look and everything else - not just the jokes - that helps sell it and make it more effective."